---
Choosing the Best High-Temperature Epoxies
July 20, 2021
---
Here are some key questions you should ask when choosing high-temperature epoxies for tough specialty bonding and potting applications.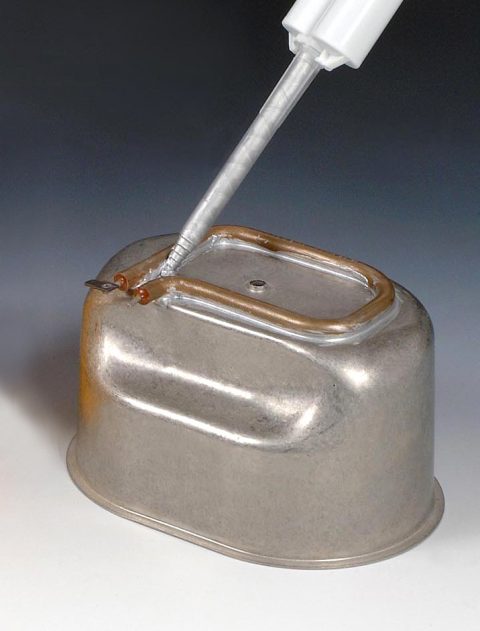 ---
Epoxy resins are the go-to solution for specialty bonding applications. They are an extremely strong and versatile class of adhesives primarily composed of curable monomers which harden when cross-linked with a choice of reagents. This allows manufacturers to apply the resin in a liquid form—usually in a casting mold or as a surface coating—before inducing polymerization. The result is an extremely durable adhesive bond that can add chemical and/or thermal performance.
High-temperature epoxies—as the name suggests—are curable resins designed for industrial service in harsh environments. Critically, they are engineered to withstand high peak and ongoing operating temperatures with inherently good resistance to the various dynamic phenomena that can compromise materials under high thermal stress. However, the heat-resistant properties of high-temperature epoxies are not the only performance parameter that you need to bear in mind when choosing an epoxy resin system.
Here are some key questions you should ask when choosing high-temperature epoxies for tough specialty bonding, coating, and potting applications.
What are Your Temperature Requirements?
The first thing to consider is the maximum operating temperature of the assembly. High-temperature epoxies come in a range of formats for different purposes but are typically primed for two distinct temperature regimes: high and ultra-high temperatures.
Generally speaking, high-temperature epoxies feature a temperature resistance of up to 400°F, while ultra-high epoxies can withstand temperatures up to 600°F.
Will Mechanical Shock and Vibration be an Issue?
Some high-temperature epoxies must also contend with mechanical shock. To maintain adequate structural durability throughout dynamic operations at elevated temperatures, adhesives will require a cross-linked matrix optimized for excellent strength and toughness. Structural epoxies may be qualified by specific mechanical properties (e.g. lap, peel, or shear strength) to help you select the right one for the job.
What Material is Your Substrate?
The bond strength of your high-temperature epoxy is not solely determined by the formula of the adhesive. Your substrate materials matter. So, it naturally follows that you should choose an epoxy system with a good bond affinity to whichever materials you are working with (ceramics, metals, etc.). An example of this would be the need to match the coefficient of thermal expansion (CTE) between the adhesive and the substrate to minimize the risk of high temperatures warping materials and causing the bond to break down. Additionally, if you are embedding components within the epoxy, you will need to choose a compatible high-temperature epoxy (i.e. in specialty potting).
Do You Need an Epoxy with Special Properties?
Last, but not least, you should consider whether your high-temperature epoxy requires any additional special properties. Most offer exceptional corrosion resistance and negligible outgassing as standard. But you may be carrying out maintenance of deeply corroded parts, in which case, machinability becomes a factor. Or you are carrying out repair work on high-throughput, high value machines thus fast cure speeds become attractive to ensure you can get your system back online as soon as possible. The dielectric strength, or electrical resistance, of the epoxy, may also be a defining factor, especially in circuit encapsulation applications.
High-Temperature Epoxies from Aremco
At Aremco, we offer a broad selection of high-temperature epoxies engineered for specialty bonding and complex potting applications. We have engineered ultra-high and specialty high-temperature adhesives to suit specific end-use scenarios, including 1:1 systems, single part adhesives, and two-component (ceramic/metal-filled) epoxies.
Looking for High-Temperature Epoxies?
Contact a member of the Aremco team today if you would like to request a quote on any of our high-performance adhesive systems.