---
Casting Materials for High-Temperature Potting
October 13, 2021
---
Electrical and metallic components are prevalent. We encounter them in almost every area of our daily life – handheld devices, smart displays, lighting systems, sensors, actuators, and printed circuit boards (PCBs). Potting and encapsulation are the essential processes that protect these components from the damage caused by moisture, shock, corrosion, tampering, and heat stress. High-temperature […]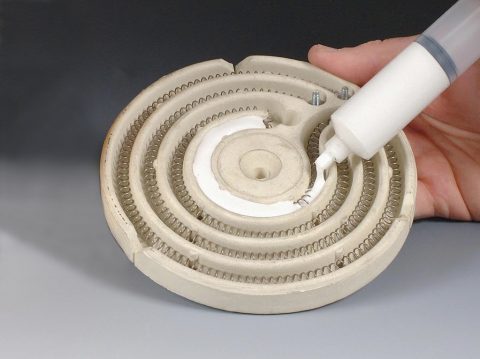 ---
Electrical and metallic components are prevalent. We encounter them in almost every area of our daily life – handheld devices, smart displays, lighting systems, sensors, actuators, and printed circuit boards (PCBs).
Potting and encapsulation are the essential processes that protect these components from the damage caused by moisture, shock, corrosion, tampering, and heat stress. High-temperature potting insulates components against excessive temperatures. Ceramic and silicone-based materials are favored for these applications.
What is high-temperature potting?
Potting describes the process of immersing a component into a compound material. Thus, equipment manufacturers protect their products from environmental or accidental damage. In high-temperature potting, a component is placed in a pot or shell which is filled with a heat-resistant compound.
Questions are often asked about how this process differs from conformal coating. In conformal coating, a non-conductive layer is added to the component. The coating conforms to the component, adding a protective layer without significantly adding to the weight. In high-temperature potting, however, a pot or shell encases the component.
The potting process begins by pouring a liquid compound into an enclosure (a pot). As the liquid hardens, it encases the component. Although this process may appear straightforward, casting the perfect pot depends on numerous factors, such as hardening ratio, material mix, and force of mix (1).
High-temperature potting works well for
Heat dissipation
Shock dampening
Tamper-proofing
High-Temperature Potting and Casting Materials
Since potting compounds shrink as they harden, care should be taken not to damage protected components during the high-temperature potting process. Shrinkage places these components under mechanical stresses, which can cause cracks.
It is best to use a high-temperature potting compound that is thermally conductive or produces little heat during curing. Another solution is to use a compound that is flexible and does not shrink excessively. Such a compound retains a degree of softness once fully cured. Its elastomeric properties absorb the stresses engendered by the hardening process.
The high-temperature potting compound should also have a low Coefficient of Thermal Expansion (CTE) to dampen the effects of thermal cycling on protected components.
Three main compounds are used for potting applications. Each provides mechanical, thermal, and environmental protection in varying degrees. Each has its advantages and disadvantages (2):
Silicone compounds are flexible and operate over a wide temperature range. They provide excellent protection against water, chemicals, and UV light. They may not, however, be suitable for applications requiring a high degree of rigidity.
Epoxy compounds provide high temperature and chemical resistance for high-voltage applications. They can, however, cause problems if there are large temperature changes during curing.
Urethane compounds work well in thermal cycling applications but are less resistant to chemicals and high temperatures.
Aremco Ceramacast™ ceramic and silicone-based materials are used to assemble high-temperature electrical devices, fixtures, molds, and tooling.
Materials based on aluminum oxide, aluminum nitride, magnesium oxide, silicon dioxide, silicon carbide, zirconium oxide, and zirconium silicate offer unique properties regarding operating temperature, thermal conductivity, dielectric and mechanical strength.
High-temperature potting is used for electrical applications in ballast resistors, case resistors, gas ignitors, ceramic fiber heaters, temperature sensors, PTC devices and more.
High-temperature potting is also used for metallurgical applications in molds, crucibles, encapsulating RF coils, furnace carriers, heating element holders and more.
Key Takeaway
High-temperature potting is a tricky but essential process. Aremco Ceramacast™ products provide an extensive range of ceramic and silicone-based materials for the assembly of high temperature electrical devices, fixtures, molds and tooling.
Resources
Wykes, J. (2020) 6 critical factors to consider when potting an electronic assembly. https://www.jjsmanufacturing.com/blog/6-critical-factors-to-consider-when-potting-an-electronic-assembly
Recom-power.com. Potting Compounds – A Guide to the Essentials. (2020). https://recom-power.com/en/rec-n-potting-compounds–a-guide-to-the-essentials-117.html?0