---
Technical Ceramics Overview
---
Aremco offers a wide range of full-fired and machinable ceramics for applications in the aerospace, automotive, electrical, heat-treating, metallurgical, semiconductor industries, and more.
Download Specs
Request Quote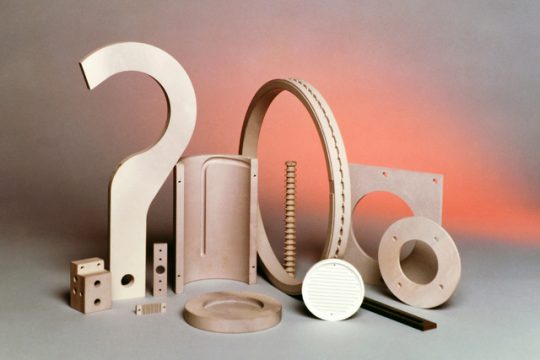 ---
502-600
Mica Glass Ceramic
---
502-800
Macor Glass Ceramic
---
---
502-1100-UF
Alumino-Silicate, Un-Fired
---
502-1400-BF
Alumina, 96% Bisque-Fired
---
502-1600
Boron Nitride, 99%
---
502-676
Magnesium Oxide, 99.4%
---
502-1100-FF
Aluminum-Silicate, Full-Fired
---
502-1400-96
Aluminum Oxide, 96%
---
502-1400-998
Aluminum Oxide, 99.8%
---
502-1900-MSZ
Zirconium Oxide, Magnesium Stabilized
---
502-1900-YTZP
Zirconium Oxide, Yttria Stabilized
---
502-1810
Boron Nitride-Aluminum Oxide
---
502-1820
Boron Nitride-Aluminum Nitride
---
502-1830
Boron Nitride-Zirconium Oxide
---
Additional ceramics including Silicon Carbide and Silicon Nitride and custom ceramic formulations are available upon request. Comprehensive precision production services include isostatic pressing, injection molding, and diamond and laser machining.
AEROSPACE Gas nozzles, thermal insulators, space mirrors, and nose cones. AUTOMOTIVE Diesel port liners, manifold insulation, catalyst support systems, flow separator housings, regenerator cores, turbine nozzles. ELECTRICAL Connector housings, heater and resistor supports, washers, inserts & stand-offs, instrument and appliance insulators, coil forms and bobbins. ELECTRONICS Wafer chucks, insulators, vacuum tube structures, microwave housings, arc barriers, x-ray equipment, and PVD applications. HEAT TREATING Brazing and carburizing fixtures, induction heating tubes, furnace and tooling insulation, guides, kiln furniture, welding jigs, hot forming dies. METALLURGICAL Molten metal crucibles, nozzles, troughs, liners, transfer rollers, structural parts, filters, thermocouple sheaths, permanent molds. PETROCHEMICAL High temperature corrosion and wear-resistant components. PLASTICS Hot die parts for thermoplastic forming equipment.