---
Pyro-Putty® 2500 High Temp Metal Sealer Now Available
October 18, 2011
---
Pyro-Putty® 2500, a high temperature sealer and metal repair compound developed by Aremco Products, Inc., is now used to bond and repair cast iron and steel components used in automotive, truck, marine, and industrial applications to 1600 °F (871 °C).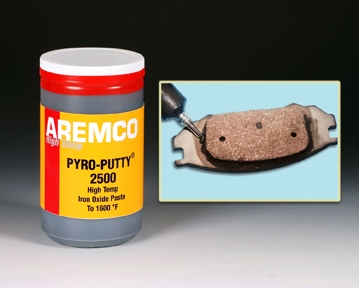 ---
Pyro-Putty® 2500 is a ceramic and iron oxide filled, high temperature paste used to bond, seal and repair defects up to 1/4″ in cross-section in cast iron and steel components and structures up to
1600 oF (871 oC).
Pyro-Putty® 2500 is a single part, black-pigmented paste that will not decompose at high temperatures. It is a water-based material that contains no volatile organic compounds and it sets at room temperature and cures in-situ or by heating to 200 ºF for 2-4 hours. It can be lightly machined then painted after curing.
Typical applications for Pyro-Putty® 2500 include repairing and sealing afterburners, boiler casings, castings, heat exchangers, exhaust manifolds, flanges, headers, incinerators, molds, and mufflers. It is available from stock in pint, quart and gallon containers.
For more information about this advanced, new high temperature compound, please contact Aremco's Technical Sales Department.