---
New Pyro-Putty® 653 for High Temperature Metal Repair to 2000°F
July 30, 2013
---
Pyro-Putty® 653 is an inorganic, single part, ceramic and metal filled paste which bonds tenaciously to cast iron, steel and stainless steel, and withstands continuous operating temperatures and rigorous thermal cycling to 2000 °F.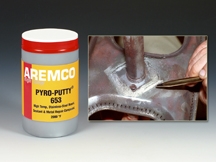 ---
Pyro-Putty® 653 is a thixotropic paste that can be applied to both horizontal and vertical surfaces in cross-sections up to 1/2″ thick. It can be machined and sanded easily after setting at room temperature for 4-8 hours and curing or exposed in-situ to a minimum of 200 °F for 2-4 hours.
Pyro-Putty® 653 is a chemically inert, inorganic compound that will not decompose at ultra high temperatures. It is also water-dispersible, environmentally safe, and resistant too most fuels, solvents and other corrosives.
Pyro-Putty® 653 is ideal for sealing cast steel casings, housings, pipes, and flanges. It can also be used as a replacement for non-structural weldments and flame spray repairs that otherwise fatigue rapidly at high temperatures. Typical applications include repairing afterburners, boilers, exhaust pipes, furnaces, incinerators, and ovens.
Pyro-Putty® 653 is available from stock in pint, quart, gallon and five-gallon pails. Please contact Aremco's Technical Sales Department for more information about this advanced material.