---
New Corr-Paint CP4040 High Temp White Coating Now Available
March 28, 2014
---
Corr-Paint™ CP4040, a new high temperature, white coating developed by Aremco Products, Inc., is now used to coating high temperature lighting fixtures along with a wide range of industrial process equipment for applications to 1100 ºF (593 ºC).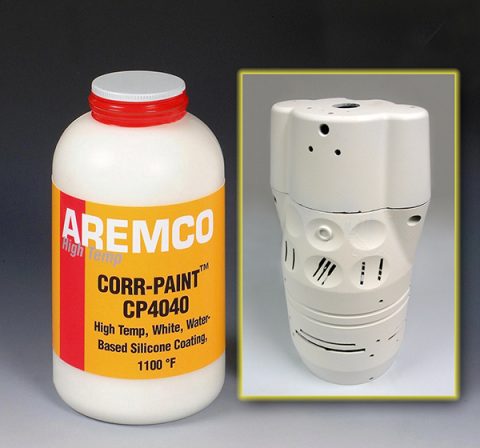 ---
Aremco's Corr-Paint™ CP4040 is a single part, white-pigmented, silicone-based, water-dispersible coating system rated developed for original equipment and maintenance applications to 1100 ºF (593 ºC).
Corr-Paint™ CP4040 demonstrates excellent adhesion to glass, quartz, ceramic, and carbon and stainless steels. It dries rapidly at room temperature and can be cured in-situ or more rapidly at 450 ºF in 1 hour or 480 ºF in 45 minutes. The cured coating is color stable at high temperatures and resistant to oxidation, ultraviolet light, humidity, and salt spray.
Corr-Paint™ CP4040 is applied easily using conventional pneumatic spray equipment, brush or roller. Although sandblasting of metals is recommended, CP4040 can be applied to relatively smooth surfaces or directly to rust surfaces found in many maintenance and repair applications.
Corr-Paint™ CP4040 can be used to provide corrosion protection on heat exchangers, crackers, reformers, exhaust ducting, and other structures that experience high temperature oxidation and corrosion due to condensation.
Corr-Paint™ CP4040 is available from stock in pint, quart, gallon and five-gallon pails. Please contact Aremco's Technical Sales Department for more information about this advanced high temperature coating.