---
New Ceramabond™ 569 Bonds & Coats Platinum Resistance Heaters
April 14, 2011
---
Ceramabond™ 569, a new high temperature ceramic adhesive developed by Aremco Products, Inc., is now used to bond and coat platinum resistance heaters to aluminum oxide cores for used in ultra high temperature applications to 3000 °F (1650 °C).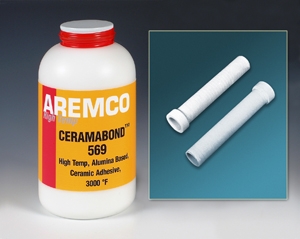 ---
FEATURES
Ceramabond™ 569 is a single part, ceramic-filled paste that bonds tenaciously to ceramic, metal and quartz substrates.  This compound is rated for operating temperatures to 3000 °F (1650 °C) and exhibits a dielectric strength of 200 volts per mil, volume resistivity of 109 ohm-cm, coefficient of thermal expansion of 4.2 in/in/ oF, and torque strength of 6.0 ft-lbs.
Ceramabond™ 569 is applied easily using a brush, syringe or automatic dispensing equipment. Once applied, curing is accomplished by heating at 200 oF for 2 hours or drying at room temperature for 24 hours. Cured product exhibits minimal shrinkage and offers exceptional mechanical strength, and moisture and thermal shock resistance.
Primary applications for Ceramabond™ 569 include the assembly of platinum resistance heaters, igniters, thermocouples, probes and sensors such as oxygen analyzers, gas chromatographs, mass spectrometers, and high vacuum components.
Ceramabond™ 569 is available from stock in pint, quart, gallon and five-gallon pails. For more information about this advanced product, please contact Aremco's Technical Sales Department.