---
EZ-Cast™ 580N Flex Silicone Molding Compound Now Available
February 17, 2011
---
EZ-Cast™ 580N, a new high temperature silicone-rubber molding compound produced by Aremco Products, Inc., is now used to fabricate high-tear-strength, flexible molds for casting ceramic fixtures.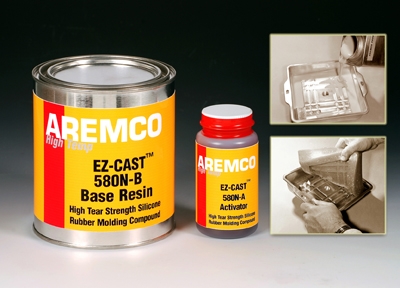 ---
FEATURES
EZ-Cast™ 580N is a high temperature, flexible, high-tear-strength silicone-rubber molding compound ideal for producing high reliability master molds for casting ceramic fixtures. Material properties include a maximum temperature resistance of 400 °F (204 °C), Shore "A" Durometer of 40, tensile shear strength of 700 psi minimum, and tear strength of 110 minimum lb/in.
EZ-Cast™ 580N is supplied as a two-part system that mixes in a ratio of 10 lbs resin to 1 lb catalyst. It sets in 24 hours at room temperature or in 4 hours at 120 °F.
EZ-Cast™ 580N is available from stock in pint, quart, and gallon kits.
Please contact Aremco's Sales Engineering Department for more information about this advanced new molding compound.