---
Aremcolox™ 502-400 New Machinable Glass-Ceramic
September 15, 2011
---
Aremcolox™ 502-400, a new machinable glass-ceramic available from Aremco Products Inc., is now used to produce thermally insulative and high dielectric components and fixtures used in electrical and electronics applications to 700 °F (371 °C).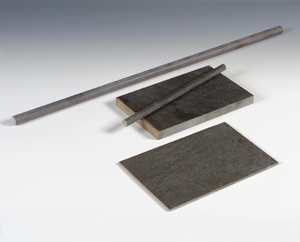 ---
FEATURES
Aremcolox™ 502-400 is a new, advanced machinable glass-ceramic developed for use in electrical and electronic high temperature applications to 700 °F (371 °C). Principal features include outstanding electrical resistance, low thermal conductivity, high mechanical strength, zero porosity, and ease of machinability using carbide tools. Specifications include compressive and flexural strengths of 40,000 and 15,000 psi, respectively; a dielectric strength of 400 volts per mil, dielectric constant of 6.9 at 1 MHz, and thermal conductivity of 2.88 Btu-in/hr-ft2-°F (0.41 W/m-K).
Aremcolox™ 502-400 is used typically in electrical components and high temperature fixtures. Applications include high voltage insulators, connector housings, instrument and appliance insulators, coil forms and bobbins, resistor supports, capacitor insulators, arc barriers, and soldering fixtures. Aremcolox™ 502-400 is available from stock in rods from 1/4″ to 1″ diameter x 18″ length and plates from 1/8″ to 1″ thick x 14″ x 20″. Custom sizes and parts are also produced to print.
Please contact Aremco's Technical Sales Department for more information about Aremcolox™ 502-400.