---
Aremco-Bond 805 High Temp Thermally Conductive Epoxy Now Available
October 25, 2013
---
Aremco-Bond™ 805, a new high temperature, thermally conductive epoxy system developed by Aremco Products, Inc., is now for bonding, potting and molding applications to 300 ºC (572 ºF).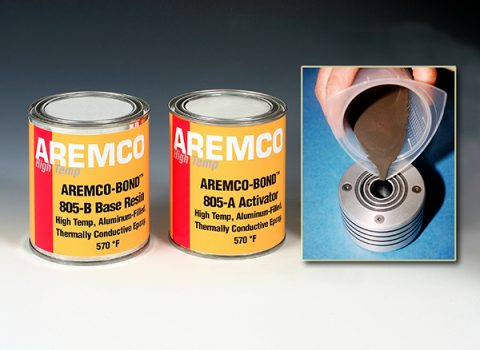 ---
Aremco-Bond™ 805 is a two component, 100% solids, aluminum-filled, epoxy ideal for bonding, potting and tooling applications to 300 ºC (572 ºF). Aremco-Bond™ 805 exhibits excellent adhesion to a variety of high temperature plastics such as polyimides and composites, as well as glass, ceramic, and high expansion metals.
Aremco-Bond™ 805 is mixed in a ratio of 10 parts resin to 1 part activator by weight and cures at room temperature in 24 hours with a final cure at 200 ºF in 2 hours. Cured material exhibits a thermal conductivity of 12.5 Btu-in/hr-ft2-ºF and dielectric strength of 50 volts/mil. The tensile shear and flexural strengths are 1,800 and 15,500 psi, respectively. The linear shrinkage is .003 in/in and Shore D Hardness is 87.
Aremco-Bond™ 805 is easily machined, drilled, tapped, or polished. Typical applications include the bonding of heat sinks and fins used in heat exchangers as well as producing vacuum molds, dies, drill jigs, injection molds, and other high temperature fixtures. Aremco-Bond™ 805 is supplied in pre-measured pint, quart, gallon and five gallon containers from stock.
Please contact Aremco's Technical Sales Department for more information about this advanced product.