---
Aremco-Bond™ 2150 High Strength Epoxy Bonds Ceramic Wear Tiles
June 19, 2012
---
Aremco-Bond™ 2150, a new high strength, vibration resistant, epoxy compound produced by Aremco Products, Inc., is now available for bonding high density ceramic wear plates used to protect industrial process equipment in applications to 400 °F.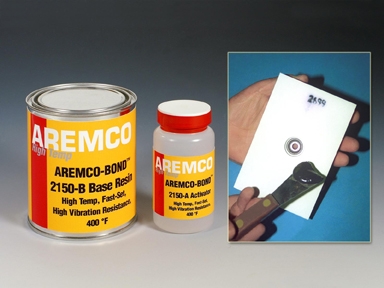 ---
Aremco-Bond™ 2150 is a ceramic-filled, fast-setting, vibration resistant, epoxy compound ideal for bonding ceramic wear tiles used to line chutes, ducts, centrifuges and other components that experience high abrasion and erosion.
In addition to providing exceptional vibration resistance, Aremco-Bond™ 2150 provides high tensile shear strength of 2,350 psi and flexural strength of 11,800 psi. Exceptional chemical resistance to acids, alkalis, organic fluids, and salts, is also provided to an operating temperature of 400 °F.
Aremco-Bond™2150 is a black pigmented, 100% solids epoxy that is mixed in a ratio of 100 parts resin to 13 parts hardener by weight. Curing occurs at room temperature within 24 hours or in an accelerated manner at 200 °F in 30 minutes. Cured product is machinable and exhibits a linear shrinkage of .004 in/in and Shore-D hardness of 84.
Aremco-Bond™ 2150 can also be used to bond a variety of metals, glass, and plastic substrates. It is supplied in easy to mix pint, quart and gallon kits. For more information about this advanced product, please contact Aremco's Technical Sales Department.